Tubular Heaters
The heat you need, in the optimum shape.
Tubular heaters have the longest lifespans of any heater. A heating coil is inserted into a metal pipe, and MgO powder is used to fill the space between the metal pipe and heating coil to create a tubular-shaped construction.
This heater is used in a variety of applications due to its flexible shape, which is one of its major features. It is widely used in many fields to heat both gas and liquid, not to mention defrosting.
At Kawai Corporation, our completely made-to-order system flexibly handles your usage environment, offering you the product that meets your needs.
From small lots to mass-production, Kawai's flexible factory line is ready to meet the challenges our customers demand.
Minimum lot charge : US$100.00~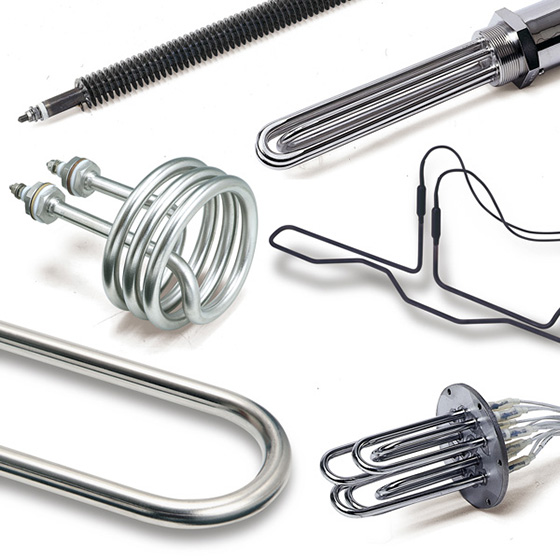 Option
Thermal gradient is required
Coarse-to-fine heat zone type (straight type)
Waterproof
Strengthened corrosion resistance
Titanium heater
Surface finishing
Others
For vacuum use (hermetic seal)
Square sheath type
With flange
With screw plug
With fins
Casted type
Brazed type
Specifications
Sheath Length
10" to 14 ft. / 250 mm to 4300 mm
Diameter (Φ)
(mm) 5.3, 6.5, 8, 10, 12, 14, 16
(inch) 1/5, 1/4, 0.31, 0.4, 0.47, 0.55, 0.63
Operating Temp.*
Up to 1560ºF / 850ºC
Max. Watt Density*
77.5 W/in2 (immersion) / 12 W/cm2 (immersion)
Max. Voltage (V)
-
Max. Resistance Density
-
Wattage Tolerance
+/-10%
Outer Dimension Tolerance
-
Insulation Resistance (MΩ/DC V)**
More than 1000/500
High Pot Test (V/min.) / (V/sec.)
1500 / 1800 (5 mA)
* Depending on heater specifications.
** Under no-heat conditions. This might be lowered to around 100 MΩ, depending on operating conditions.
Correlation between Watt Density and Temperature Rising Speed