Tube Heaters
We've transformed a silicone rubber tube and a fluorinated plastic tube into a heater!
Use our tube heaters for your fluid warming needs.
Our tube heater is a flexible heater that integrates the heating element into a silicone rubber and fluorinated plastic tube. You can rely on this heater when you need to control fluid temperature.
Aside from our silicone rubber and fluorinated plastic tube, we can also manufacture the tube you specify, or use the tubes you supply. We can also produce a tubeless spiral-type heater, which you can use to coil around a tube of your choice afterwards.
Production is in lots of one item or more. If this sounds even a little interesting to you, feel free to get in touch with us.
Minimum lot charge : US$100.00~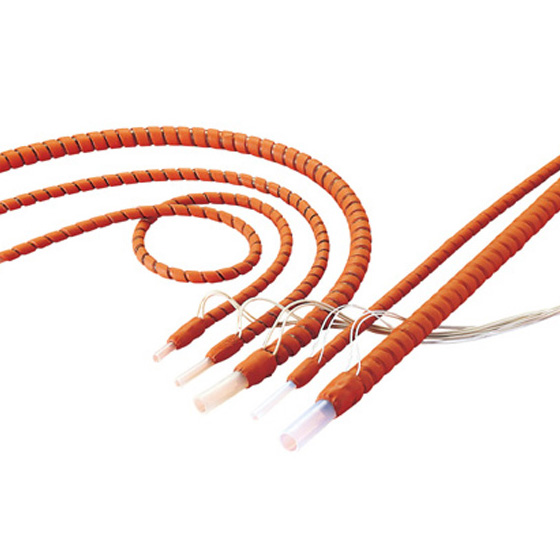 Option
Insulator
With insulator (silicone sponge)
Others
Thermocouple built-in type
With thermostat
With temperature fuse
With resistance temperature detector (RTD)
Tubeless type (spiral shape)
Specifications
Length
4" to 1 ft. / 100 to 3000 mm
Tube Outer (Inner) Diameter (Φ)
(mm) 3.17 (1.59) to 28 (25)
(inch) .12 (.06) to 1.1 (.98)
Operating Temp.*
Up to 430ºF / 220ºC
Max. Watt Density*
10 W/in2 / 1.5 W/cm2
Max. Voltage (V)
240
Max. Resistance Density
-
Wattage Tolerance
+/-10%
Outer Dimension Tolerance
-
Insulation Resistance (MΩ/DC V)**
More than 1000/500
High Pot Test (V/min.) / (V/sec.)
1500 / 1800 with 5 mA
* Depending on heater specifications.
** Under no-heat conditions. This might be lowered to around 100 MΩ, depending on operating conditions.